This is the final piece for the Zeniius ecosystem. The CEOs who receive the Ability Card may or may not have the need for the Ability Card.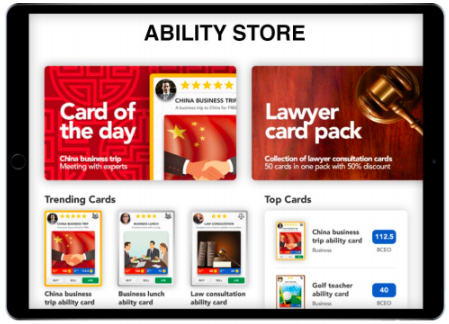 However, the special feature of the Ability Card is not just illustrating that a CEO owes another CEO a performance promise, but also signifies the connection between the CEOs. Increasing the amount of Ability Cards would increase the chances for any CEO to connect with other CEOs. Therefore, CEOs will have the need to exchange, collect or even purchase the Ability Card and thus form a marketplace for the Ability Card — Ability Store.
At first, only Zeniius users will be able to trade in Ability Store. In the future, we plan to include non-Zeniius users, so that everyone may trade on this platform. Anyone can create their own Ability Cards and trade them on Ability Store.
In Ability Store, in addition to trading and exchanging, users can also participate in the referral program by recommending a CEO A with a suitable Ability Card created by another CEO B.
If the referee purchases the Ability Card recommended to him/her, a small reward from the sale of the Ability Card will be sent to the referrer. This program will enable Ability Cards to reach end-users more effectively and enhance the efficiency of the system.
In addition, BCEO will function as the token for payment of purchases on Ability Store. With every transaction, Ability Store will receive a 10% transaction fee as system reward.
? Read more: https://bitceo.io